Upgrading your ticket is possible when the event you are participating in has different batches, with different advantages. For example, suppose you bought a ticket for an event and then decided to switch to the VIP area. It is possible for you to upgrade your ticket without the need to ask for a refund for your first purchase, or making a new purchase.
This upgrade can happen with the payment of the difference between the value of first ticket you bought and the new (more expensive) ticket. This difference will be set in an offer by the Producer. Check out below the step-by-step to request a ticket upgrade:
1. Log in to your Hotmart account at: https://purchase.hotmart.com/login (if you have not completed your registration, fill in your details).
2. In My Products page, locate the event and click it. The Upgrade Ticket option will be available.
3. When you click Upgrade Ticket, you will have access to a screen with information about the batch available for upgrade and the value difference to be paid.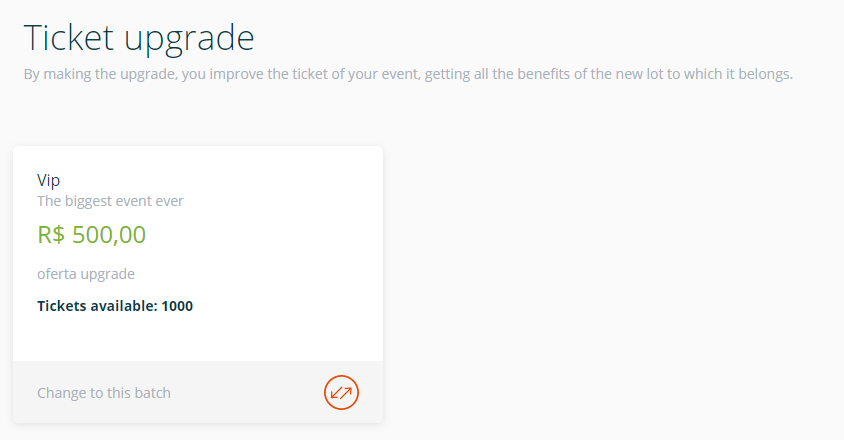 4 Click on Change to this batch.
5. To continue with the batch change, you need to accept the terms, as seen on the image, and click Yes.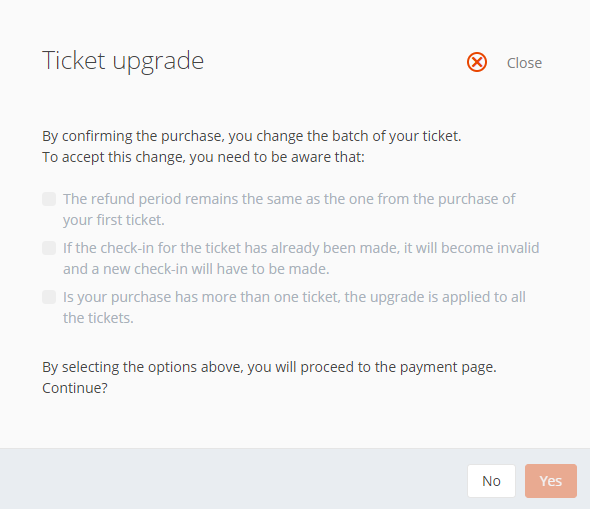 6. After you accept, you'll be taken to the checkout screen, when you can add a new card or use the same you used on the first purchase. Then, click Buy Now.
7. All done! You will receive an email to do a new check-in. Have a great event!
If you have any questions regarding the ticket upgrade process, you can open a request in our Support with TICKET as the subject. Our customer service team will be available to help you.