Learn about the customizations available to send Sales and View Events via the Hotmart Tracking Pixel.
Sales Events
Sending based on payment behavior
It's common to send sales events for all payment methods with the real amount of the sale, that is, your commission. However, it's possible to put together your segmentation and remarketing strategy with customized sends.
In Hotmart's Tracking Pixel, for example, you can configure the sending of Sales Events depending on the payment, with only instant payment information being forwarded or only non-instant payment information. Check out the available options below:
Instant payments:
Hotmart account;

PayPal;

Google Pay;

Credit card.
Non-instant payments:
Bank deposit slip;

PIX;

Debit;

Cash Payment.
Some of these payment options are restricted to specific areas. Check out this article for more information.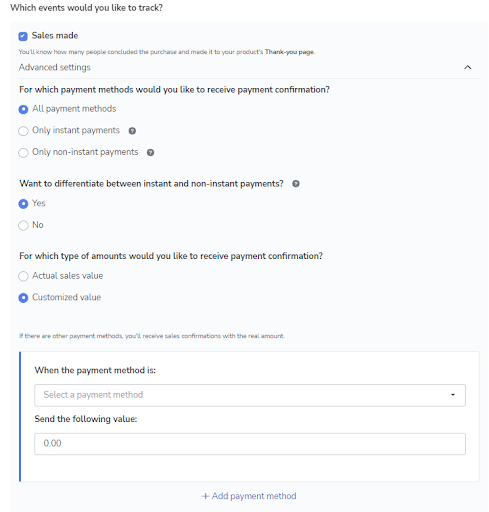 Setting financial amount
For greater precision with financial information sent to Marketing tools, and greater accuracy when calculating the return of your paid traffic campaigns, you can configure the monetary amount of the sale to be sent.
To do so, use the average conversion rate of the payment method you want to customize, multiply by the unit amount of the product, and select it as the amount to be sent.
Facebook
For Facebook specifically, there's a third option related to the differentiation between instant and non-instant events. Here's an image:
Non-instant payments will be sent as PaymentGenerated events, while instant payments will be sent as Purchase through the conversion API (provided it's configured). However, if you choose not to differentiate, instant and non-instant payments will generate Purchase events when generated.
To learn more about how to configure the Facebook CAPI, read this article.
View events
View events provide basic user information based on the session in the tool. But don't worry! In all cases, Pageview or similar events are sent, depending on the provider.
Sending of Hotmart Product Page events
Hotmart Product Pages can generate two types of events:
"

ProductPage

" for direct traffic to the page;

"

Marketplace

" if the visualization occurs directly on the Hotmart

Marketplace

.
Checkout Page View
When the Checkout Page is viewed, the Initiate Checkout event is triggered. It's important to highlight that this event doesn't characterize cart abandonment at Hotmart, as this moment takes place after the buyer fills in their contact details, such as email address or phone number, and then leaves the page.